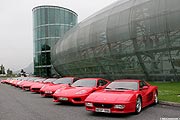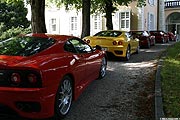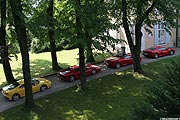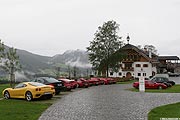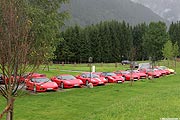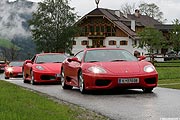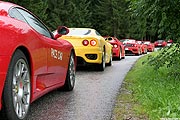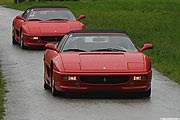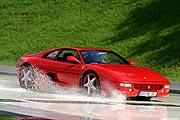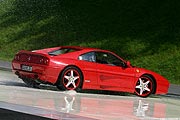 From 18th to 21st of August 2005 there has been a special kind of Ferrari meeting at the event hotel Scalaria in Austria, situated at the beautiful lake Wolfgangsee. The first participants already reached the Scalaria hotel at the late afternoon. After the check in there was sufficient time to relax until the elevator brought the participants to the 7th floor at 7:30 pm. There, the elegant ambiance of the "Schlossbar" offered the possibility to acquaint each other. After the breakfast on Friday morning, the Ferraris finally started up at 10:30 am to the first stage, along the lake Wolfgangsee, the Höllengebirge, lake Taunus to the wonderful situated Villa Toscana. Amongst the 88000 sqm parkway some refreshing drinks awaited the participants.
After a short break, the tour proceeded with beautiful sunshine along the Salzkammergut to the next stop at the center of driving safety in Strasswalchen. After the catering, everyone had the possibility to drive his Ferrari to the limit at wet and dry conditions. At 4:00 pm the participants started to the third stage back to Sankt Wolfgang, where everyone could arrange the rest of the day oneself.
For Saturday, a second tour was planned. Unfortunately the weather has been not as nice as the previous day. The first stage leaded over winding roads up to the Postalm, the highest plateau of Europe towards via Abtenau to Annaberg, where the Winterstellgut of RedBull is located on a picturesque bank. Out of a simple estate, RedBull-boss Dieter Mateschitz made the "Landgasthof Winterstellgut", wich he also uses as a horse stable during the winter. After the catering, the next stage leaded to Salzburg. The lovely stage via Abtenau and Hallein, extraordinary routes to accellerate, ended at the airport of Salzburg. Another catering awaited the participants at hangar 7, an impressive building and home of the flying bulls, the squadron of RedBull. In the afternoon, the tour ended at Scalaria. At 7:30 pm "Gala in Rosso" started, an exquisite menu and the presentation of ex Gerhard Berger Formula 1 Ferrari F1 87 C. The day ended with an awesome outdoor show including fireworks.
On Sunday, the wonderful weekend ended with the live broadcast of the Formula 1 race in Turkey.